Are you a beginner in using a bullet journal? Do you find those creative layouts too difficult for you? Why not try the minimalist bullet journal spreads instead?
Perhaps you've already seen a lot of bullet journal spreads on Pinterest and Instagram and the designs are all beautiful and stunning but… unfortunately… too complicated for you.
Well… here's the good news!
Bullet journaling doesn't have to be complicated. It can still function as you want it, without all those colors and artistic designs.
Minimalist bullet journal spreads don't need fancy pens, colors or paints and no art skills are required. (Okay… you may put a little color for accent. But mostly it's just black.)
So when creating spreads, you don't really have to worry about designs. You can just focus on how you will use your BuJo to make your everyday life easier.
Now… without further ado… here are the minimalist bullet journal spreads! Believe me when I say they're very easy to copy!
ENJOY!!!
1. Monthly Cover
Separate your bullet journal entries by month with a monthly cover. I'm sure you've already seen very artistic designs for this page. But as I've said, it doesn't have to be complicated.
Your monthly cover page can be this simple! Just write the month and underline it with a branch of leaves!
Won't even take a minute to do that! But let's be a little "artistic" this time.
See? It's not complicated. I told you – it doesn't have to!
Let's move on to the bullet journal pages!
2. Key Page
Here's a super simple Key page!
It's just a header, followed by the symbols and what these symbolize. Not much symbols in here.
How much symbols you use depends on your needs. If there are more events in your days that need symbols, then add one as needed.
Here's another example!
Again, this, too is a very simple Key page – just a header then the symbols and what these mean.
If you need more ideas for a Key page, check our more detailed article – Bullet Journal Key: 20 Classic & Simple Designs
3. Daily Schedule
This is a very simple daily spread to track your tasks every hour.
To do this, simply write the date and the day on top. Draw a line below it. Then divide your BuJo page into two. Spread the hours evenly on it.
And that's it! You're ready to write down the tasks that you will complete each hour.
You can also add a not-so-obvious habit tracker on top, represented by the capital letters.
For example, in this BuJo, those letters mean:
E for Exercise
M for Meditate
T for Text parents
V for Vitamin
J for Journal
It's a really simple habit tracker. No need for those squares in circles. Just a few letters and a check to indicate that you've completed that habit for the day.
You can also make your daily schedule look like this:
Draw a block of time on the middle of the page. Then write your tasks either on the left or on the right side of the block, positioning each according to the time when you will accomplish it.
Just draw a small square beside each task to indicate any action you've done on it – like when you've completed it or it's still in progress.
If you only have a few tasks, you don't have to consume the entire page of your bullet journal. Half a page will do.
4. Daily Task List
Maybe you don't want to be bound by the time of performing each task. You just want to make sure that everything you need to do gets done everyday.
If you're this type, all you need is a task list.
Just enumerate what you will do daily.
It's definitely a very busy Monday!
You can add a snapshot of each day's focus during the week to maximize the page.
If there's a very important lesson you just learned during the day, or something keeps popping in your mind, jot these down too! Just keep them at the bottom of the page.
Now maybe there's not much details about your tasks.
If so, you can choose to add other important things to track.
Like in this minimalist bullet journal sample, the page is divided into four quadrants, namely, Tasks, Physical, Emotional/Mental and Notes.
While you are easily reminded of the tasks for the day, you can track everything that is connected to your physical and emotional well-being.
Simply fill up the Physical quadrant with details like how many hours you slept, or if you're on medication did you take it already and what time.
Indicate how you feel in the Emotional/Mental section. Did you feel stressed or happy during the day? What made you feel that way?
Use the Notes page for every little details that pops up that will need your attention later.
Now if you think these are not really necessary, just focus on writing down your tasks everyday.
If you think a little calendar will help for a quick reference, add one!
5. Weekly Spread
Need a bird's eye view of your entire week?
You should make a weekly spread!
All you need is to write the dates of the week and you already have a weekly spread.
The month's calendar and a space for notes are nice additions, but not really necessary.
It's just a question of whether you prefer to have them or not. So if your time to make a spread is so little you only have a few minutes to spare to write the week's dates, that's completely fine.
6. Future Log
This is very easy to prepare.
On the left side of the page, make a calendar for one whole year. Then on the right side, write down the important dates you need to remember.
Continue to fill up the page with important dates as they come up throughout the year.
You can also make the calendar in one page and the events on another page, making them side by side for a quick glance.
If you prefer to use one page for each month, here's something you can copy.
Write the dates on the left side of the page. Beside, fill it up with your appointments and deadlines.
7. Meal Plan
Just write down what you will cook everyday for breakfast, dinner, lunch and snacks.
Best to do it once a week, so that you can make a grocery list alongside with it and shop for the ingredients just once a week too.
8. Cleaning Schedule
Having trouble maintaining a clean house?
Boost your motivation by creating a list of the things you should do to keep your house clean.
Instead of giving yourself a long list of to-dos everyday, stick to a short list like this.
It will not only motivate you, but keeping a short list keeps you focused on the few tasks at hand which you can actually do!
It's better to have a short list of things that you actually accomplish rather than a very long list which only gets you overwhelmed. At the end of the day you could feel disappointed because some tasks still remain undone, but that's not even because you've done so little, but because your list is just too much.
9. Movies to Watch List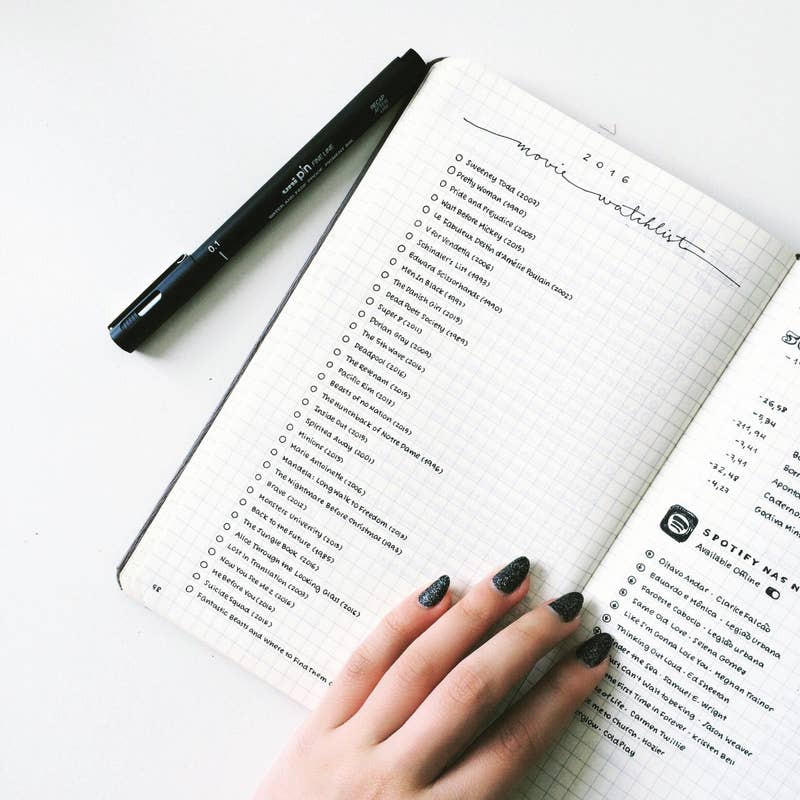 This is probably the easiest to make.
If you've created a list before, that's basically how it is! It's pretty much like your daily task list.
Simply write down all the movies you are interested into. Remember to draw your symbol beside each title.
Now this minimalist bullet journal setup is not restricted to a movie watchlist. You can follow this pattern when you create more lists – packing list, books to read, places to visit, date night ideas, etc.
Here's an example of Books to Read List.
And a Songs List.
10. Habit Tracker
You've probably seen a lot of different habit trackers on Pinterest and Instagram, with all the colors and artistic strokes.
Well… good news is… your habits do not depend on how attractive your BuJo is. It depends on whether you take action or not.
So when it comes to your habit tracker, you can forget all those colors and strokes. Just focus on monitoring the habit everyday.
A simple diagonal line to symbolize a completed habit is sufficient.
Or a dot…
Or x marks…
This one's a chores tracker, but… well… you get the idea.
11. Gratitude Log
This is just like making another list.
On the left side of your Gratitude Log, write down the dates for the month.
Then, each day, ask yourself, what are you grateful for?
You don't need a lot of answers. Just one will do. What is that one thing that you are thankful for today? Write your answer beside today's date.
Continue to fill it up as each day passes.
And that's it!
Just one thing may be small, but if you complete it for a year, you've listed 365 things to be grateful for.
And that's awesome training to cultivate a grateful heart!
12. Travel Itinerary
Easily plan the places you want to visit with a travel itinerary.
You can be as detailed as you want, tracking everything about your travel – the date, time of departure, your destination, waypoints and distance.
In this example, a column has been created for each detail. There's also a space for Notes for anything you want to add.
You can also do it this way.
The places to visit are listed each day, with the timetable and budget. Flight information is also recorded on the flight's day.
On the next page is a list of everything you need to bring for the trip.
I like that the packing list is just side by side with the itinerary. When you do a quick review of your packing list, and tally that with your itinerary, it is easy to determine the things you need to add to your packing list.
13. Expenses Tracker
When you're on a tight budget, it is especially important to monitor your expenses.
List down each expense, the amount, due date, and whether it's auto pay or not.
You don't have to consume one page for each month. In this sample, one page is enough for three months.
14. Mood Tracker
Here's a very easy way to track your mood!
You only need to classify your mood into whether it's positive, like when you're happy and excited, or negative like when you are lonely and disappointed, or just plain neutral.
15. Goals for the Year
We are now on the second quarter of 2019. How time runs fast!
If you haven't set your annual goals yet, now's the time!
Here's an example from 2017 and 2018.
To make your goals clearer, categorize them into the different aspects of your life – Personal, Relational/Relationships, Professional/Business/Career, Health, Financial and Spiritual.
An art in itself
Okay that's it!
Now… won't you agree with me when I say that the minimalist style in bullet journal is an art in itself?
Not to mention… they're very easy to copy.
So thank you for reading up to the end of the post. I hope you've found an ideal layout for your bullet journal.
If you want more BuJo page ideas, here is a comprehensive list that you can get inspiration from . Majority of the layouts are not of the minimalist type. But you'll get the idea.
Loved this post? Share the love and PIN it for others to see!